Lawyer, Researcher, and Scholar
A graduate of UCLA Law's Critical Race Studies program and the David J. Epstein program in Public Interest Law and Policy, I use this training to sharpen my analysis and fuel policy innovation.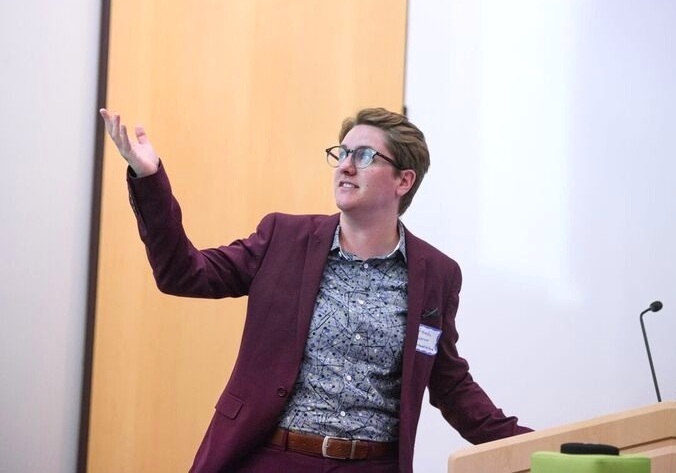 Honors
In April 2019, I received the Recent Alumni Award at UCLA Law's annual U. Serve L.A. celebration, honoring legal advocacy in the public interest and benefitting the David J. Epstein program in Public Interest Law and Policy. The award recognized my work to "advanc[e] positive change through creative activism and political strategy."
Publications
Whether in academic journals, opinion editorials, or Twitter threads, my writing seeks to create frameworks to communicate the moral urgency of racial justice and progressive reform. My most extensive scholarship to date — an original analysis of historical and legal links between corporate privilege and white supremacy entitled "Corporations are (White) People" — was published in the Harvard Journal on Racial and Ethnic Justice in 2015. Professor Cheryl Harris is currently teaching my article to UCLA Law students in her Introduction to Critical Race Theory course.
Other selected publications are below:
Presentations
I was invited to lecture at American University's School of Public Affairs as part of the Project on Civil Discourse in Fall 2018. My presentation, "Activism, Discourse, and Identity," tracked the growing movement toward creative activism and analyzed innovative approaches to break through the news cycle in the Trump era. In January 2019, I spoke about practical organizing tactics on a panel with Chief of Staff to Alexandria Ocasio-Cortez, Saikat Chakrabarti, and Virginia State Delegate Lee Carter for Current Affairs magazine's live show at Rock & Roll Hotel.
I presented on the gray areas of data privacy and and consumer rights in tech for a webinar sponsored by ManageEngine in April 2019. In 2015, I addressed human rights and corporate liability on a panel with John Sherman and Tyler Giannini hosted by the Boston Bar Association and presented my original scholarship at UCLA Law's 2014 Critical Race Studies symposium, "Whiteness as Property: Broadening the Framework."
As a board member of and advisor to the Unfunded List, I moderated a panel with influential philanthropists at the organization's first annual Evaluator Summit in September 2018. I moderated a discussion at the American Bar Association Section of International Law's Spring Meeting entitled "Creating and Rewarding Responsible Contractors through Procurement Policy" in 2015.